Featured Brand
Echo Power Equipment

For more than 40 years, ECHO Incorporated has been a worldwide leader in the development and manufacture of professional-grade, hand-held outdoor power equipment for both the commercial and homeowner markets.
Featured Brand
Big Green Egg

Widely acclaimed as the original American-designed ceramic cooker, the Big Green Egg was derived from an ancient clay cooking device known as a "kamado". Originally a clay vessel with a lid, today's EGG® is a modern ceramic marvel known for producing amazing culinary results for novice and experts alike for over thirty years!
Ace Rewards Signup
Sign up for

to receive emails about deals and promotions!
Ace Rewards Instant Savings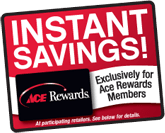 Ace Rewards Members get instant savings right in the store!
More Information
Featured Service
Do you own a small engine that just isn't running like should? Bring it on in and let our professional mechanic diagnose the problem. learn more »